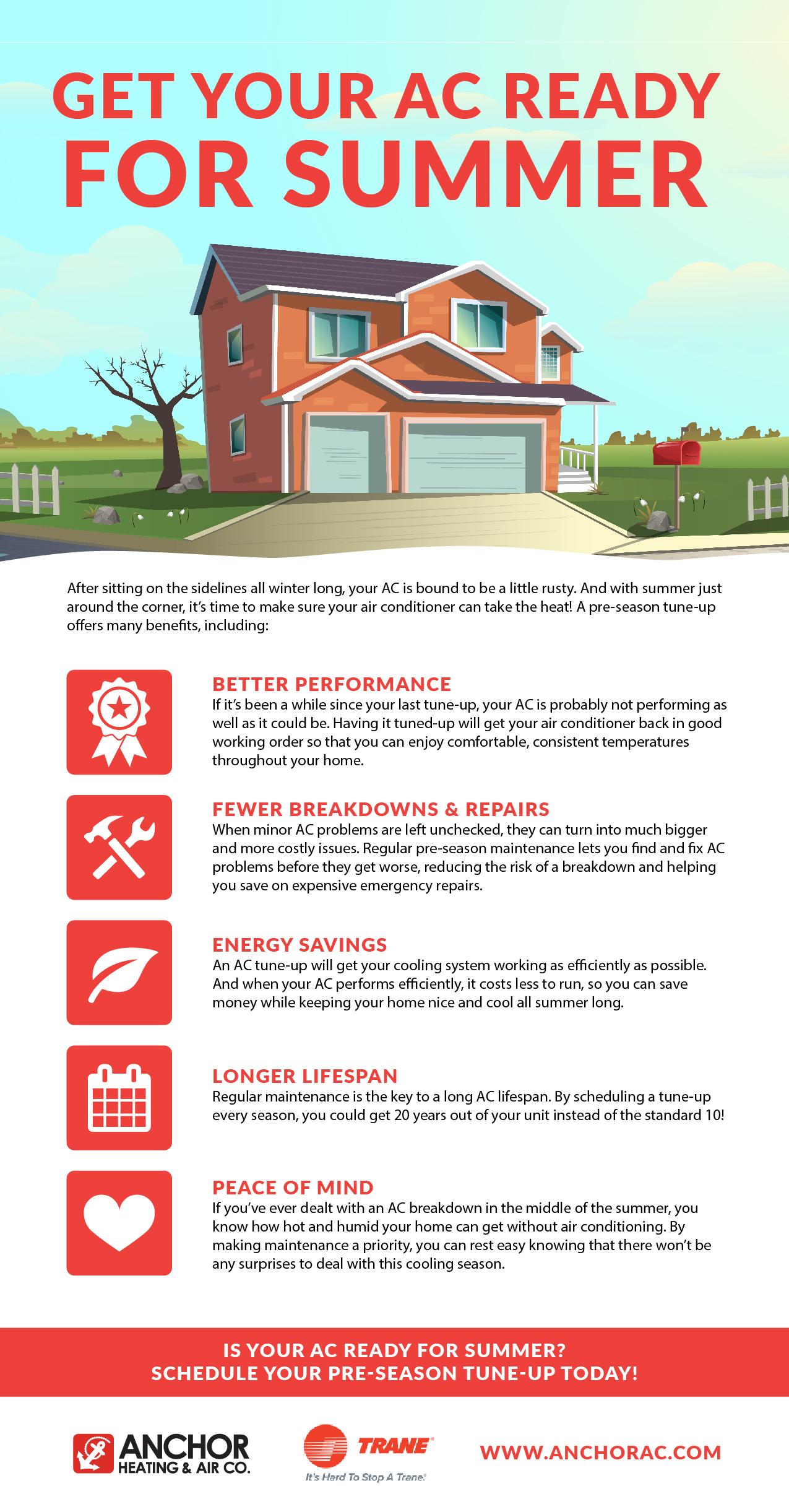 (View as a downloadable PDF version)
After sitting on the sidelines all winter long, your AC is bound to be a little rusty. And with summer just around the corner, it's time to make sure your air conditioner can take the heat! A pre-season tune-up offers many benefits, including: 
Better Performance
If it's been a while since your last tune-up, your AC is probably not performing as well as it could be. Having it tuned-up will get your air conditioner back in good working order so that you can enjoy comfortable, consistent temperatures throughout your home. 
Fewer Breakdowns & Repairs 
When minor AC problems are left unchecked, they can turn into much bigger and more costly issues. Regular pre-season maintenance lets you find and fix AC problems before they get worse, reducing the risk of a breakdown and helping you save on expensive emergency repairs. 
Energy Savings 
An AC tune-up will get your cooling system working as efficiently as possible. And when your AC performs efficiently, it costs less to run, so you can save money while keeping your home nice and cool all summer long. 
Longer Lifespan 
Regular maintenance is the key to a long AC lifespan. By scheduling a tune-up every season, you could get 20 years out of your unit instead of the standard 10! 
Peace of Mind 
If you've ever dealt with an AC breakdown in the middle of the summer, you know how hot and humid your home can get without air conditioning. By making maintenance a priority, you can rest easy knowing that there won't be any surprises to deal with this cooling season. 
Is your AC ready for summer? Schedule your pre-season tune-up today! Call (770) 942-2873 or contact us here.