Access your HVAC system right from your phone.
Upgrade to a smart Wifi thermostat today.
Testimonials
Thank you for explaining the different types of filters to us. We feel good about our decision, and we know we will breathe better from now on.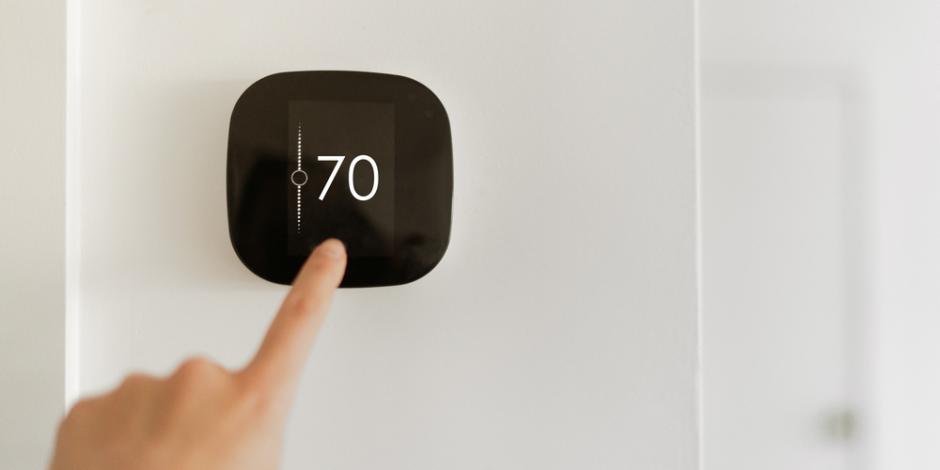 Remember the days of having to walk over to the thermostat when you were too cold or too hot and crank the dial to change the comfort levels in your home? Well, those days are long gone—advanced comfort controls now give homeowners more access and control than ever over their home comfort.
Anchor Heating & Air Conditioning offers thermostat and temperature sensor installation that can help you:
Lower heating and cooling costs

Maintain your ideal comfort settings

Avoid expensive repairs and breakdowns

Access your HVAC system anywhere with your phone!
Programmable and Smart Thermostats
Anchor offers a variety of programmable thermostats and smart energy efficiency thermostats from Trane and Nexia that offer increasing levels of control over your home's heating, cooling, and ventilation systems, including:
Trane's XR300 series
5" interactive touch screens

7 day or 5-1-1 day programmable schedule

Air filter reminder
Trane's XL series
Color display

7 day programmable schedules

Wifi or ethernet connectivity

Nexia Diagnostics ready
With Trane's XL series, you can take your home to the next level. With Nexia Remote Climate Access included and a built-in Nexia Z-Wave Bridge, your smart thermostat can use Nexia's smart home automation system to integrate all of your smart home devices into an all-in-one app.
Connecting your Trane furnace, air conditioner, or heat pump to the Nexia app gives you remote access to your thermostat through your smartphone, computer, or tablet device wherever you have an internet connection. You'll be able to adjust the temperature and schedule changes to help improve your comfort. Plus, this additional control can help reduce your heating and cooling systems' energy use, saving you money over years of operation.
Temperature and Humidity Sensors
With outdoor and indoor temperature sensors from Trane, you can remotely access the comfort levels in any room of your house right from your phone or laptop. These devices use wireless Z-wave technology to communicate with your Nexia app and your smart thermostat, and some sensors can even detect humidity levels, so you can be sure that your home is perfectly comfortable at all times.
Upgrade Your Home HVAC System Today with Anchor
Smart thermostats and temperature sensors from Trane and Nexia can help bring your home into the 21st century, helping to maximize your HVAC system's efficiency while providing unprecedented control over your heating and cooling equipment.
Ready to make your Atlanta Metro or Douglassville, GA house more comfortable and energy efficient? Talk to a heating and cooling expert at Anchor today about the benefits of smart thermostat installation.
Lower your energy costs and take control of your heating and cooling. Call (770) 942-2873 or contact us today to learn more about thermostat and comfort control system installation.