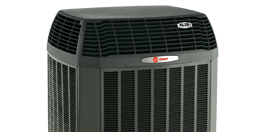 I don't know anyone in the South who doesn't LOVE their air conditioner! That doesn't necessarily mean we want to look at them while enjoying and spending time in our outdoor living spaces. There are plenty of ways you can hide, mask, conceal and block your air conditioning unit to keep it out of view. However, there are a few things to keep in mind before you do that.
Space to Breathe: An air conditioning unit needs space to breathe and vent out generated heat. You want to avoid restricting airflow around the coils. Make sure any structure or landscaping you put in place is at least 2-3 feet from the air conditioning unit on all sides.
Accessibility: Servicing your equipment regularly is important to keep it running efficiently. Be sure your equipment is accessible for maintenance and repairs at all times.
Shade: Providing shade for your system will keep it happy by helping it to run more efficiently and lessen the risk of over heating. If your unit is located in an area that receives too much sun, include a way to provide some shade in your landscaping plans.
Plant Debris: Leaves, grass, and other debris from landscaping can be sucked or blown into your unit. Accumulated debris can significantly reduce the efficiency of your air conditioning unit and dramatically raise your utility bills. When placing plants around your unit, look for plants that don't lose their leaves during the colder months to keep the area clear of debris.
If you have any questions about your air conditioner unit, contact the HVAC specialists at Anchor, 770-942-2873. We are here to help!