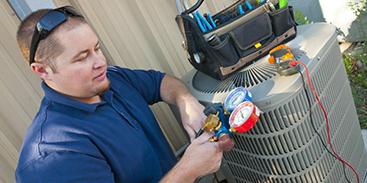 Heating, Ventilation and Air Conditioning (HVAC) units can be costly to repair and even more expensive to replace. So today we share some tips that will hopefully extend your HVAC unit beyond the average lifespan.
Air Flow: HVAC units need room to breathe. Keep the area around the unit free of storage and clutter. Remove debris such as leaves, pollen, and twigs from the top and sides of outdoor air-conditioning units and heat pumps. Also, keeping the unit and the vents free of dust will keep the unit cooler and clog-free.
Replace Filters: I know we sound like a broken record stuck on the words "replace filters", but that is because of the utter importance of this task to the efficiency and life of your system! Filters need to be replaced at least quarterly, but check it monthly and if it looks dirty or clogged go ahead and change it. It is a small price to pay for big savings down the road.
Thermostat Setting: If the temperature outside is not too extreme, keep the thermostat set a couple of degrees higher or lower. By doing this, you will save your unit from working too hard and as an added bonus, reduce your utility bill.
Semi-Annual Maintenance: Fall and spring, ahead of each peak season, are an ideal time to have an HVAC contractor inspect and do maintenance on your system. Maintenance allows us to make minor repairs and save your heating and air conditioning equipment from major blowouts, which can cost big money.
One other great tip we wanted to share is to schedule your filter replacements and semi-annual maintenance through your online calendar or smartphone calendar. Adding a recurring event on electronic devices is easier than ever and a great way to keep on top of maintenance.
Each one of the above tips can extend the life of your HVAC unit, saving you money over the life of the unit and on your utility bills. Anchor Heating and Air would love to help you with this goal. Read here for more information on the service plans that we offer.