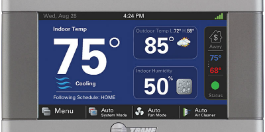 Has your air conditioner been working overtime lately? In Part 1 of this series we discussed some reasons this may be happening, such as the size of your unit, a faulty thermostat or a lack of proper insulation. We also listed some ways to tell how much is too much activity for current temperatures. Here are a few more items to check out if feel like your air conditioner is constantly running.
Check Your Maintenance Record - When is the last time your unit was serviced by a professional technician? Ideally maintenance should happen twice a year, in the spring and in the fall before the two peak seasons. During routine maintenance, any worn parts will be replaced and you will be notified of any parts that are in questionable condition. Also, your system will be cleaned and your filter replaced to allow for efficient air flow and cycling. If it has been a while since your last maintenance session, you may have found your problem. Regular maintenance will not only help ensure that your unit is in good working order, it will also extend the life of your system.
Check the Lifespan - While proper maintenance and care can as much as double the lifespan of your unit, unfortunately your system will eventually wear out. If it is time for you to replace an older, worn out unit, consider the fact that this will save you money in the long run as newer units operate much more efficiently than older ones.
As we all know, the more often your air conditioner runs, the more energy it will consume and the higher your utility bills will be. If you air conditioner is running constantly for any of the reasons we have described, your best bet is to have a professional take a look.
If at anytime your air conditioner stops working, call Anchor at 770-942-2873. We have you covered with 24 hour emergency repair service, 365 days a year – even nights, weekends or holidays.