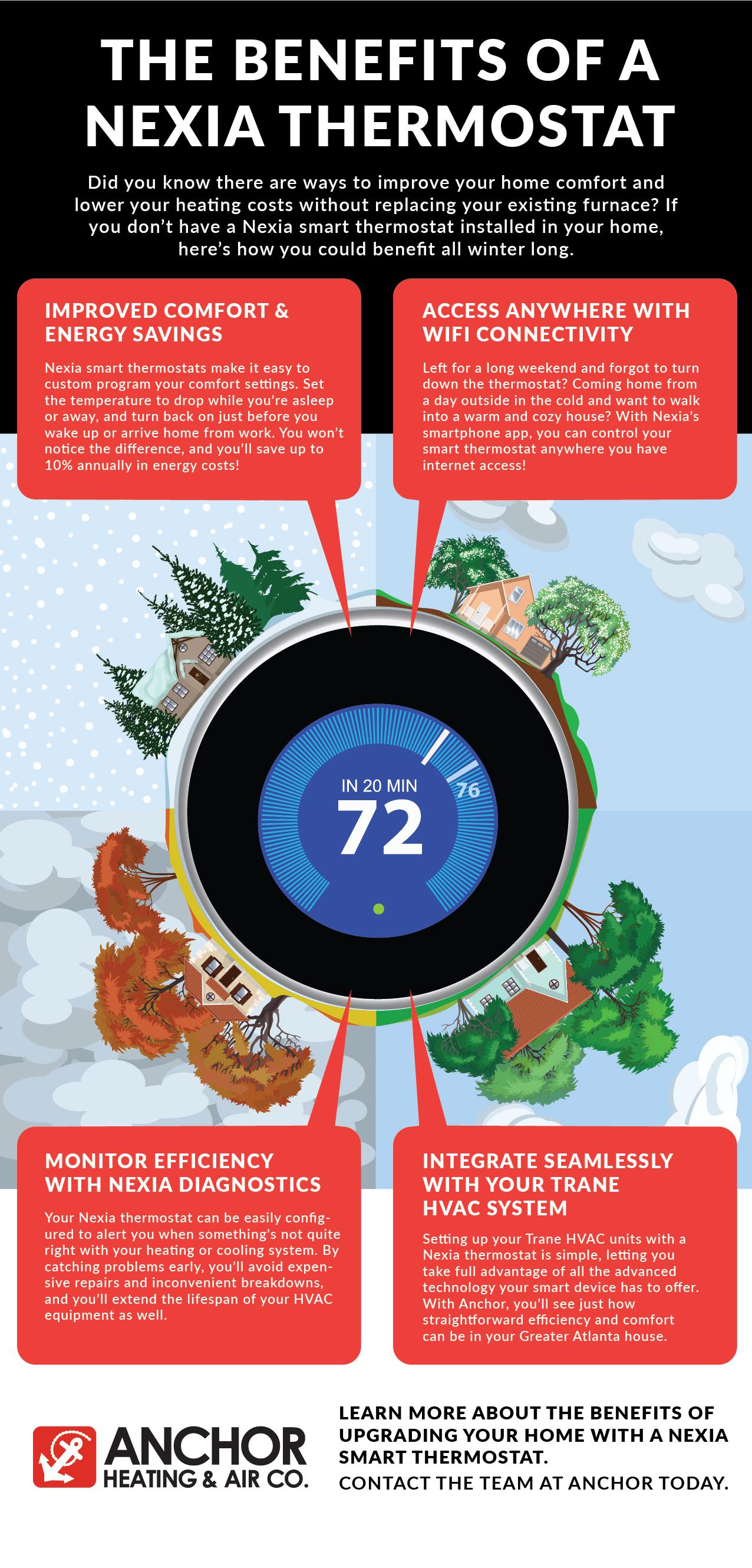 (View as a downloadable PDF version)
Did you know there are ways to improve your home comfort and lower your heating costs without replacing your existing furnace? If you don't have a Nexia smart thermostat installed in your home, here's how you could benefit all winter long.
1. Improved Comfort & Energy Savings
Nexia smart thermostats make it easy to custom program your comfort settings. Set the temperature to drop while you're asleep or away, and turn back on just before you wake up or arrive home from work. You won't notice the difference, and you'll save up to 10% annually in energy costs!
2. Access Anywhere with WiFi Connectivity
Left for a long weekend and forgot to turn down the thermostat? Coming home from a day outside in the cold and want to walk into a warm and cozy house? With Nexia's smartphone app, you can control your smart thermostat anywhere you have internet access!
3. Monitor Efficiency with Nexia Diagnostics
Your Nexia thermostat can be easily configured to alert you when something's not quite right with your heating or cooling system. By catching problems early, you'll avoid expensive repairs and inconvenient breakdowns, and you'll extend the lifespan of your HVAC equipment as well.
4. Integrate Seamlessly with Your Trane HVAC System
Setting up your Trane HVAC units with a Nexia thermostat is simple, letting you take full advantage of all the advanced technology your smart device has to offer. With Anchor, you'll see just how straightforward efficiency and comfort can be in your Greater Atlanta house.
Learn more about the benefits of upgrading your home with a Nexia smart thermostat. Call (770) 942-2873 or contact the team at Anchor today.
Higher comfort, lower energy costs.
Upgrade your home with a Nexia thermostat.